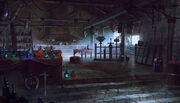 Every NPC the PCs have met on Felor.
Shopkeepers
Edit
Hansi Destrig, Owner of Destrig's Copper Courier and Pelt Trading.
---
Sir Tamriel, Owner of Tamriel's Fine Goods and Clothiers, a vastly expanding business.
---
Shopkeepers of War-Mart, quality items, at quality prices that everyone can afford.
---
Shatrin Qelkris, Owner of Qelkris Crimped Tips and More.
---
Quarion Crufis, Owner of Quarion's Quintessentil Smoke.
---
Fylareth Xanyth, Owner of Fylareth's Fine and Exquisite Spears
Zog, Goblin Grand Master Blacksmith.
Balturo Deganus, High King of Vateric.
---
Basheera Sulemar, Queen of Soleria.
---
Malen Sulemar, King of Soleria.
---
Zeki Sulemar, Grand Prince of Soleria.
---
Latif Sulemar, Prince of Soleria.
---
Jessenia Sulemar, Princess of Soleria.
Guild Leaders
Edit
Zeki Sulemar, Leader of Reconditus Praedictum.
Guild Members
Edit
Larue, Sandur Hendur Operative
---
Gastol, Sandur Hendur Operative
Community content is available under
CC-BY-SA
unless otherwise noted.